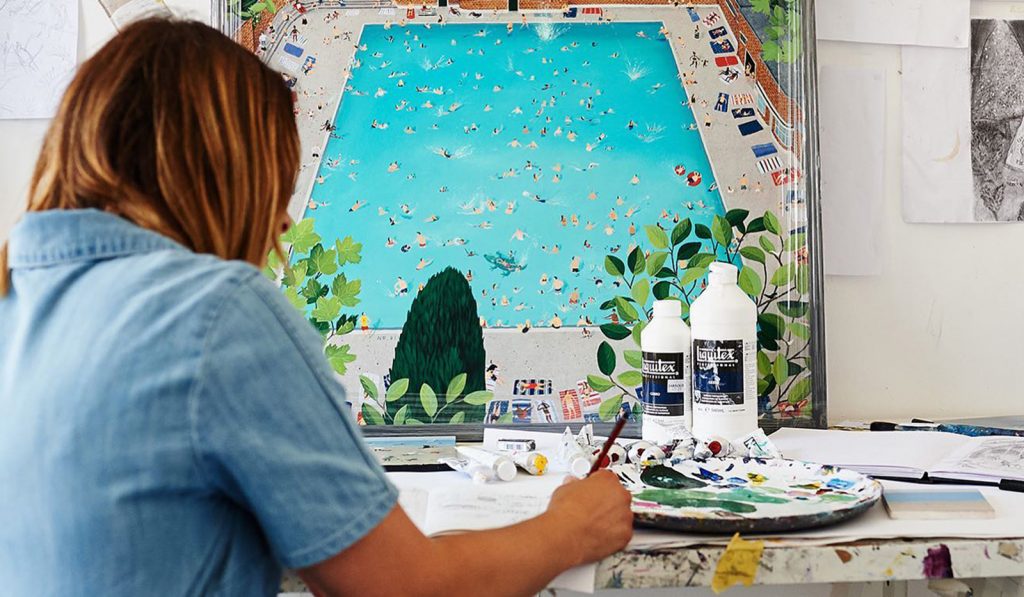 Almost ten years on I haven't looked back.  My limited edition prints and greetings cards now sell in galleries and stores across the country and I have been represented at The Affordable Art fairs in both Hampstead and Battersea. I have worked for the most wonderful private clients and have paintings hanging in far flung places such as beautiful beach houses in Australia, pool houses in Singapore and downstairs loos in Kent.
I now live and work in Norwich and my studio is full of scribbles of ideas and splashes of paint. I am often laughing at the never-ending supply of wonderful material my kindred spirt Insta and Facebook followers provide me with. There is something so special about having real people and their stories in my paintings, they make for such a richer image, I mean you can't just make up a lady with a blue beehive hairdo reclining with an Aperol spritz on an inflatable pineapple. Come on over to my Instagram and join us!
As I shut my studio door at the end of the day, I aim to have created something funny and quirky, filled with people and stories that are uplifting through their joyful, positive outlook, sparking happiness and shared memories. Walking through the park on the way home to my surf chasing husband, I collect my adventurous three year old daughter. Both of whom are a constant provider of new material.